Register for Exploring Structural Database Use in Crystallography
03/08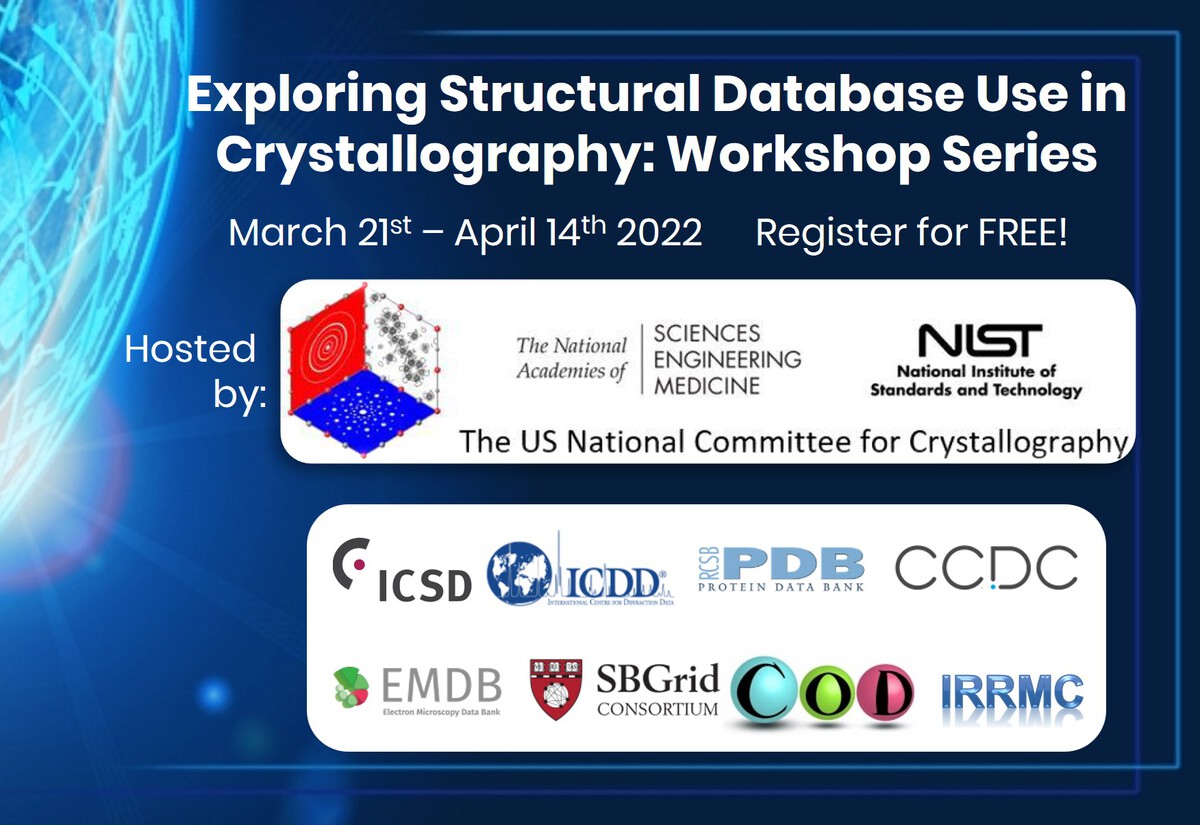 Register for Exploring Structural Database Use in Crystallography: A USNC/Cr Workshop Series
The U.S. National Committee for Crystallography (USNC/Cr) of the National Academies of Sciences, Engineering, and Medicine is providing an online workshop series for students and researchers on the use, development, and maintenance of crystallographic and structural databases. Encompassing macromolecular, small molecule, and powder diffraction information, the series will include training options for each of the following database resources:
Crystallographic Open Database (COD)
Cambridge Structural Database (CSD)
Electron Microscopy Data Bank (EMDB)
International Center for Diffraction Data (ICDD)
Inorganic Crystal Structure Database (ICSD)
Integrated Resource for Reproducibility in Macromolecular
Crystallography (IRRMC)
RCSB Protein Data Bank (PDB)
SBGrid Software and Data Bank
Graduate students, postdoctoral fellows, faculty members and researchers in any of the crystallographic, diffraction, and imaging sciences affiliated with the International Union of Crystallography (IUCr) are encouraged to register and participate in the training sessions that interest them.
Undergraduate students with appropriate research experience will be considered.
The series will kick off with a Keynote Presentation on The Exemplary Crystallography and Structural Databases by John R Helliwell on March 21.
RCSB Protein Data Bank Workshops
Tuesday March 29, 2022 | 11am-1pm EDT
History of the Protein Data Bank (PDB) and the Worldwide PDB, Stephen K. Burley
PDBx/mmCIF Data Standard, Ezra Peisach
PDB Data Deposition with OneDep, Jasmine Young
Small Molecules in the PDB, Chenghua Shao
Thursday March 31 2022 | 11am-1pm EDT
wwPDB Validation Report: Assessing the Quality of PDB structures, Chenghua Shao
3D Visualization of PDB Data with the Open Source Mol* Viewer, Shuchi Dutta
Impact of Artificial Intelligence and Future of PDB Data: Next Generation PDB Archive, Stephen K. Burley